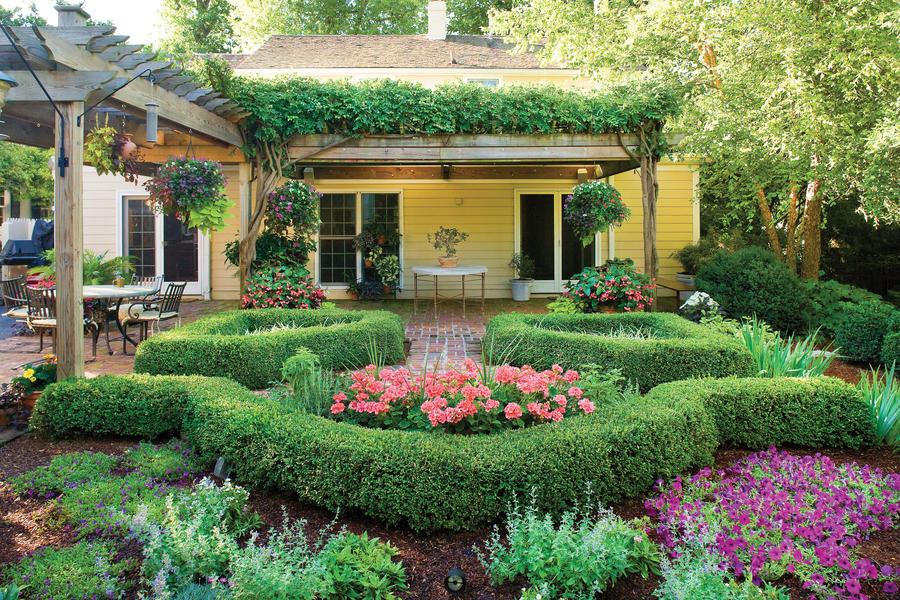 Edible Gardens
Crazy to think that we are now getting back to the basics of life and the appealing thing in 2017 is that homeowners love the idea of designing a landscape that has food in it? I know what your thinking food in my front and back yard? Not , really : However having a landscape that is high maintenance and watering everyday sometimes twice a day $$$ , you know what I mean . We are now designing yards with bountiful harvest of fruits and vegetables , herbs for the cook in the family and living a healthy lifestyle in our own backyard space.
Cooking from your garden is not only satisfying but it is a great inexspensive way to put food on the table each day. Organic living has been a huge part of families and what we put in our belly has been priority #1. I know it is at our house. My daughter has Celiac and we by no means have wheat in our home.
Choose a location in your yard that has great soil , rich fertile soil not dry like the clay we have in our area. Make sure the drainage is good and protect it from wind and harsh weather elements.
Clean and modern still might be in for some, However the trend has been to be using materials such as railroad ties , swings for seating and natural stone pathways with grass between. Clients are asking for more real and timeless looking landscapes. Most still want the one item that stands out and makes the WOW factor in the back yard , However they want it ORGANIC.
I don't mean build something from 1920 in your landscape , I mean using one imagination you can create outdoor bars out of old barn wood or stone tiles with moss between. Stone and wood rule the organic garden. We like large boulders and dry river beds with Cedar and rusted old metal. Recycled materials are huge. GREEN is Good.
Plants still take the place of anything in your backyard. So what are customers asking? Natural native plants that grow here and survive here. There is no doubt with the endless amounts of new plants and non native plants introduced that we don't just throw are hands in the air and say, " Stop the madness."
Clients want to know what natural look of my surroundings belongs to my back yard , what makes my space remind them why they live here and what organically makes sense. Coneflowers are a native plant that we have used for years and continue to introduce into new landscape yards here in Indiana.
Smaller shrubs and less trimming are still huge in 2017. Customers want a yard that is natural so if a weed or two pops up in there landscape it looks good! Listen todays families are so busy and taking aim everyday after work to water plants and pull weeds are not priority.
My kids play soccer in the backyard with a removable goal. The key word is , " Removable. " Why you ask? Dad and Mom like there toys too.
Bocce courts are huge now , Adults have entertainment needs when the need is to entertain. Customers are now creating there own back yard playground. Less grass and more play. Customers don't want to weed the yard or pick up the corn whole boards overtime they mow. Nope! They wan larger dining areas , bigger outdoor kitchens and simply a place to relax.
I have a client that said, " I don't have room for a bocce court , because my yard is to small." That would be true but you do if we remove the grass on the outside of your landscape? You know what ? We did it and she loves the fact that work play and entertainment are a huge hit in her back yard space.
Still huge! We are blessed to celebrate a lot of great holidays during the summer and fall. Labor Day weekend and a rack of ribs? Yeah, I can taste it already. The smell of firing up the grill and just relaxing all day with a great beverage.
Outdoor kitchens are still big , However we have seen customers wanting it simple and clean. No smoker , no external burner , no beverage cart . No just the grill. Technology allows us to have grills that do both and do it well. Smaller grill area and larger bars.
Does that mean that society drinks more? No but uncle Lou still does. It means simply that the spaces we design are now becoming less to maintain and more to enjoy. The grill and the refrigerator . The two most important items .